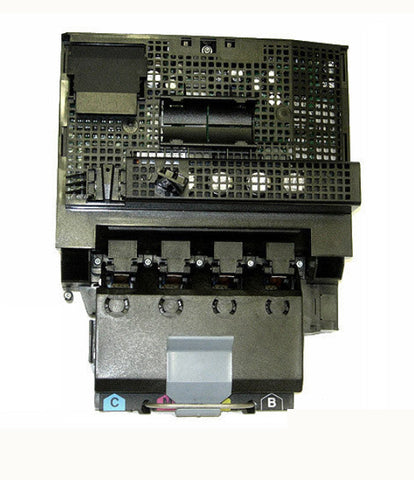 HP Designjet 1050C / 1055CM Carriage C6072-60147
Condition: Refurbished, Live-tested
Warranty: 12 months
HP Designjet 1050C, 1050C+, 1055CM and 1055CM+ Carriage Assembly. The carriage assembly carries the printheads, communicates with the main logic, cuts media, reads print quality. This is a fully refurbished, live-tested part. Includes 1 year warranty. 
Carriage assembly Includes:
Carriage flex cables
Carriage logic PCB
Line sensor
Springloaded rear bushing
Encoder sensor 
The Trailing Cable Assembly is sold separately (Part Number C6074-60418).
System errors related to the carriage assembly:
Error 010041

Error 060300

Error 060301

Error 060306

Error 060307

Error 060308

Error 060309

Error 06030A
---
We Also Recommend
---
Excellent parts
I order a lot of parts from LPS and they always come through. I needed this carriage for a customer and it worked perfectly. The old one was rejecting printheads constantly. Note that you will probably need a new trailing cable if replacing the carriage! Don't use the old one if the end is coming apart; you may fry the main PCA.
HP1055 fixed
Started with an ink tube kit. Ended up replacing trailing cable, belt and carriage while I was at it. Plotter works fine now. Thanks to Bob for taking my phone call for assistance.
Carriage for 1050c
I am your typical small business whereas I try to get the most life out of all my tools and equipment and especially plotters simply because new plotters cost upwards of $10k for 36" roll feed color plotter. The big manufacturers kinda hold you hostage and stop offering service and or producing parts so you have to get good at doing you own maintenance and that was how I found LPS Computers. In the past 2 years I have replaced the belt, vacuum system, ink thingy (I'm sure that's a technical term) and now the carriage. I wish I knew that it would have been best to change all these items at the same time but that is part of the learning curve. I am also sure that this is the last thing I will do to this unit before it is finally retired but at least I will have gotten the most out of it and LPS has helped a lot.
Great Product
Everything showed up on time.
Very Helpful!
Great parts, videos, and support! LPS has helped us extend the life or our HP Designjet 1050's by many years. Thank You!