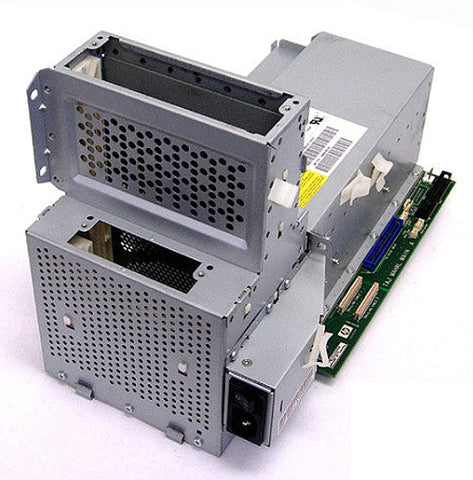 Q6687-67013, Q6687-60057 Designjet T610, T1100 44" Main PCA & Power Supply
Designjet T610, T1100 44" Main Logic Board and Power Supply 
Condition: Refurbished, NEW fan installed in PSU, Live-tested
Warranty: 12 months
Q6687-60057, Q6687-67013
Main board and Power Supply for the Designjet T610 and T1100 plotters. Replacement

part for 44" plotters

. This is a refurbished part warrantied for 1 year.
System errors related to the main PCA and power supply:
Error 01.0:YZ

Error 02.1:YZ (primary cause: faulty carriage PCA)

Error 03:10

Error 08:11 (primary cause: faulty formatter OR pinched ribbon cable for control panel)
Designjet T610, T1100 Power Supply & Logic Board
---
We Also Recommend
---
gostei muito
sou do Brasil e gostei muito de negociar com vocês. Essa foi minha primeira compra na sua loja e gostei do atendimento e envio rápido. Só não gostei porque fui taxado na alfandega e tive que pagar imposto alto mais não tem nada a ver com voçês.
The formatter errored out as soon it was powered on but reinstalling it later worked I'm not sure if I have confidence in the part lasting very long
Hi Thomas,
I see you ordered the formatter and the main PCA/PSU. When you replace the formatter, the machine will boot to error 79:04. This is a normal part of the pairing procedure. Every time you boot thereafter, the machine should function normally.
Fixed my 08:11 error
A T1100 with an 08:11 error; don't be fooled that it's the front panel, it's either the main PCA, formatter or hard disk. In my case it was the main PCA. Part worked flawlessly. LPS is extremely prompt and courteous!