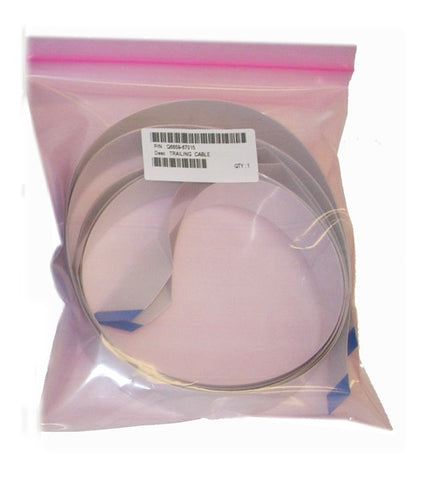 HP Designjet T610, T1100, Z2100, Z3100, Z3200, Z5200 44" Trailing Cable Q6659-60177
HP Designjet T610, T1100, Z2100, Z3100, 44" size Trailing Cable Set (2 ribbon cables) --Not for T1120)
Q6659-67015 (was Q6669-60177)
White ribbon cables that connect the carriage to the electronics. It runs the length of the plotter and moves with the carriage. This cable is for the 44" print width plotter. This is a new HP replacement part. Cables damaged during installation are not returnable.
 System errors related to the trailing cable:
Error 02.1:YZ (primary cause: faulty carriage PCA)
Error 11:11

Designjet T610, T1100, Z2100, Z3100 Trailing Cable
---
We Also Recommend
---
So grateful I found LPS computer!
The tec support offered by LPS is better than HP. They really know their stuff and have helped me numerous times. Every part I have purchased from them has been perfect.
Excellent Customer Service
I've ordered several parts for my HP Z3200ps 44", including the trailing cable, belt, cartridge, etc. Top notice customer service and parts.
Great Quality Parts
I've ordered several parts for my HP Designjet T610 from LPS including a Trailing Cable and belt. All of the parts I've received have been high quality, factory fit, and have been shipped very quickly. Thank you for helping me keep this plotter running!
Q6659-60177 Designjet T610, T1100, Z2100, Z3100, Z3200, Z5200 44" Trailing Cable