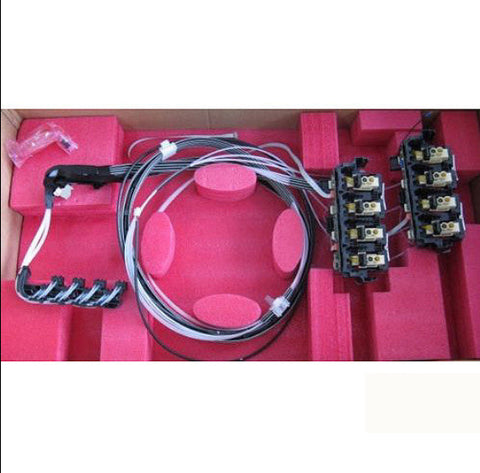 HP Designjet Z6100 Ink Tube System 42" Refurbished Q6651-60289
HP Designjet Z6100 42" Ink Tube System & Trailing Cable
Refurbished & Upgraded
Q6651-60289
$100.00 Back With Prepaid Return - Final Price $575.00
DOES NOT INCLUDE INK TUBE PCAs. You must use your machine's original ink tube PCAs. 
HP Designjet Z6100 Ink Tube System & Trailing Cable Assembly for 42" plotters. This is a refurbished tube system with all 48 seals upgraded to silicone, new printhead ports and check valves. Tested to 3x normal operating pressure.
OEM tube seals oxidize, crack, and leak over time. LPS upgraded tube systems have LPS-designed seals installed with an expected lifespan of at least 10 years.


Ink tubes are chemically cleaned, flushed with pure water, and dried with particle free air
All buna seals replaced with  long life silicon seals
All print head ports and check valves replaced with new parts (LPS design)
Includes purgers for ink tube priming
$100.00 refund when old system is returned
Prepaid return shipping label is included (USA only)
1 year replacement warranty
Note: The return ink tube systems must be complete with no missing parts. Tube systems that have been disassembled/broken apart have no value and will not be paid for. There are no repairs that can be made without special tooling, correct procedures, and new parts.
---
We Also Recommend
---
Z6100 ink tubes
nicely rebuilt with better parts than what HP makes. I bought 10 x and never any issue.
Ink tube assembly-42inch
Great item - perfect condition and Excellent boxed condition