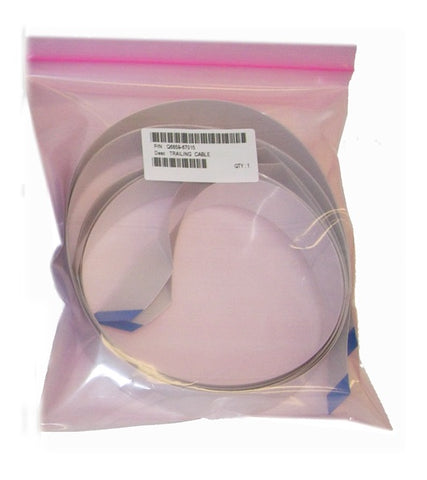 HP Designjet T610/1100 Z2100/3100/3200 24" size Trailing Cable Q5669-60681
HP Designjet T610/1100 Z2100, Z3100, Z3200 24" size Trailing Cable (set of 2)
Q5669-60681
White ribbon cables that connect the carriage to the electronics module. It runs the length of the plotter and moves with the carriage. This cable is for the 24" print width plotter. This is a new HP replacement part.
 System errors related to the trailing cable:
Error 02.1:YZ (primary cause: faulty carriage PCA)
Error 11:11

Designjet Z2100, Z3100 Trailing Cable
---
We Also Recommend
---
Haven't got to it yet
Haven't caught up to it yet. Doesn't look too difficult. If so, I'll just call Tim and he'll walk me through it. What a great employee.
Great part, just like OEM
This cable is exactly like the one that comes in the printer. The plastic part and bends are already there.
Great informational site for do it yourself repair, parts shipping a little slow but everything went well and got my HPT610 up and running.
LPS Rocks
Always great support and products from LPS. They keep my business going!
Good parts
Hello...
I ordered a few parts from your website. I'm working with a HP DJ Z2100, the parts are already installed in the equipment, but the plotter still have problems to be on-line