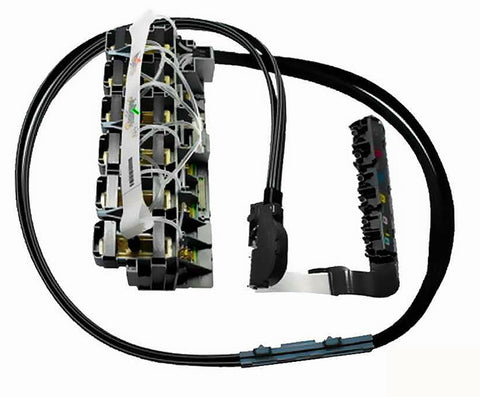 HP Designjet 5000, 5500 60" UV (HP 83) Ink Tube System C6090-60231, Q1253-60042
Designjet 5000, 5100 & 5500 60" UV (HP 83) Ink Tube System, Rebuilt & Upgraded

Q1253-60042 was C6095-60231
$50.00 Back With Prepaid Return - Final Price $295.00
Refurbished and upgraded with silicon rubber seals.
OEM synthetic rubber seals oxidize, crack, and leak over time. LPS upgraded tube systems have LPS-designed silcone seals installed with an expected life of at least 20 years. No planned obsolescence here. 
Ink tubes are chemically cleaned, flushed with pure water, and dried with particle free air
New long life silicon seals are installed
All print head ports and check valves replaced with new parts (LPS design)
Smart Chip/Life Count reset to Zero

Includes purging tool for ink tube priming

Illustrated installation instructions

Custom-built packaging protects the crane and electric connectors in transit

$50.00 refund when old system is returned
Prepaid return shipping label is included (USA only)
1 year replacement warranty

---
We Also Recommend
---
The Best Place for HP parts
Thank you for a great service.
Reviving The Ancient 5500
Having a 20 year old HP printer is like owning a vehicle from the distant past. They are very well made as long as the parts you need are available. Thanks to LPS Computer my printer works as well as it did when it was new. I've replaced printheads when needed and have installed a couple carriage belts and now have rewarded the machine with a refurbished ink tube system. Maybe I can get another 20 years of service from her. Much appreciation to LPS Computer for their dedication to their customers needs. I'm running some utilities now but look forward to printing some huge canvas prints again soon. Mahalo!
Better than the original!
You refurbished the ink tube system for my Designjet 5500UV several years ago, and it still works perfectly! Thanks for the great quality!
HP5500 ink tube system
Easy to replace. Works great!