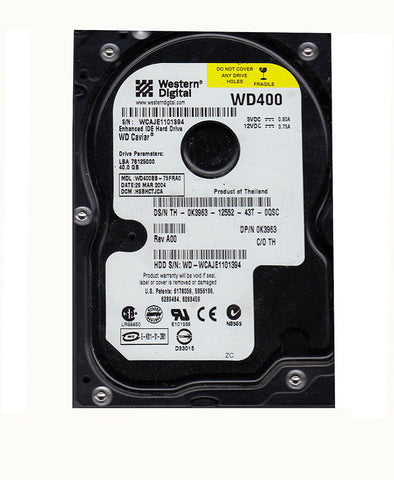 Designjet 5500PS Hard Disk Drive HDD Q1252-60004, Q1252-69045, Q1252-60007
HP Designjet 5500PS Hard Disk Drive
Q1252-69045 (HDD only) 

Replacing the internal Hard Disk Drive on the Designjet 5500PS is a simple task.  There is a rectangular covering on the back cover of the plotter that is held on with 6 T-10 screws.  The HDD is behind that covering.  Remove the screws and the covering.  The disk drive is mounted in a foam frame.  Remove the disk drive and both connectors.  Replace the disk drive and close up the panel.  You're done!  10 minutes maximum.
This Hard Disk Drive contains software for booting and running the plotter, firmware, stores settings and allows queuing and nesting. This is the 40GB HDD formatted and preloaded with HP PostScript software. This is  Version 05.00.51 and must be used with a version 05.nn.nn boot ROM (most common version).

Lifetime Warranty.

Boot ROM can be ordered here if needed.
System errors related to the HDD:
Error 1f500XX Boot Fail (May also be caused by a failing power supply unit)


Designjet 5500PS Hard Disk Drive
---
We Also Recommend
---
Fantastic Customer Service!!
Always fast and friendly! The whole team is super helpful at LPS! Will be placing another order soon!
Associate Director US Open Operations
Excellent products and unparalleled service
They go the extra mile when you need help
Excellent company to buy from
professional services, quick and willing to help with any problem that may arise.
Hard Drive
The product was great. It was very easy to install and worked like it should.