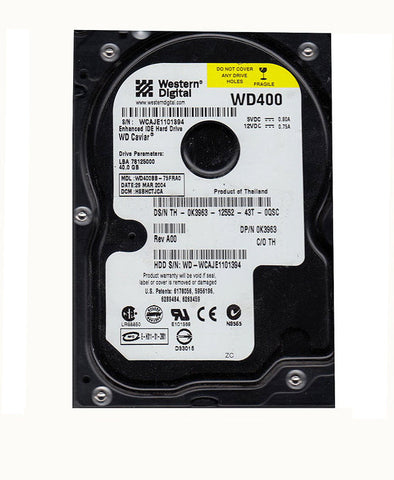 Designjet 5500 RTL Hard Disk HDD Q1251-60067, Q1251-60323, Q1251-60090
HP Designjet 5500 RTL Hard Disk Drive
Q1251-60323 - RTL Version (not PostScript)


Q1251-60323 Replaces Q1251-69306 / Q1251-60306 / Q1251-60284 / Q1251-60282  

Replacing the hard disk drive is a simple task. Remove the rear panel from the rear cover that has 6 screws. The HDD is housed in a stiff foam holder. Remove the old disk drive and disconnect the data and power cables. Install the new hard disk drive and put the panel back on.  That's it!  No adjustments or calibrations are needed.
This part is the Internal Hard Disk Drive containing software, firmware for booting the system and stores the settings , and allows queuing and nesting. This is the 40GB HDD Western Digital, preloaded with HP format and software. Version 05.00.51 and must be used with a version 05.00.nn boot ROM (most common version). Correct boot ROM can be ordered here.

Lifetime Warranty.

System errors related to the HDD:
Error 1f500XX Boot Fail (May also be caused by a failing power supply unit)
Designjet 5500 RTL Hard Disk Drive
---
We Also Recommend
---
HDD for Designjet 5500
I can't think of anything that could have made this experience better. I had some assistance on the phone in ordering the right part. Then the part came as expected and worked just as said.