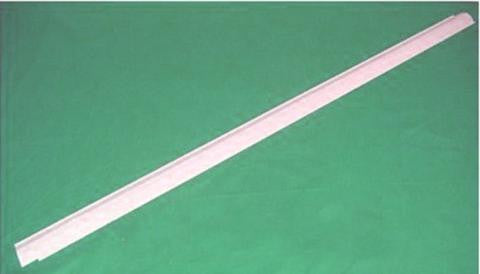 Q1277-60027 DJ 4500, 820mfp Luminescent Strip
Designjet 4500 Scanner, 820mfp Luminescent Strip
Condition: Refurbished, Live-tested
Warranty: 12 months
Q1277-60027

This is the white metal strip facing the glass used by the scanner for white balance calibration and to hold the document flat against the glass for scanning.

This is a refurbished part refinished with the correct color of white epoxy paint. Finish is low friction for better wear characteristics and and ease of  document movement.

Worn out strips can cause incorrect white balance calibration and skew color calibration. The strip can be replaced by removing 1 plastic clip on guide plate.  1 minute fix. Toll free technical support is available if needed.

The part is 100% guaranteed for 1 full year.
This part works with the following scanners:

DESIGNJET HD Scanner
DESIGNJET 820 MFP
DESIGNJET T1100, T1120 HD-MFP
DESIGNJET T1200 HD MFP
DESIGNJET 4500MFP
DESIGNJET 4500 SCANNER
---
We Also Recommend
---