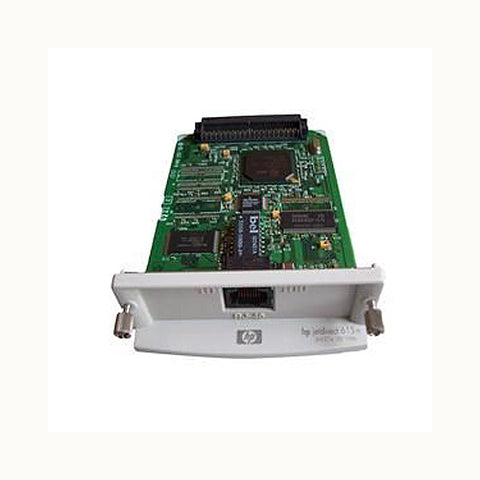 Designjet 1050C / 1055CM Jetdirect Ethernet I/O Card J3113-61001 (Select Version)
Designjet 1050C / 1055CM Jetdirect Ethernet Card
Ethernet connection board for the HP Designjet 1050c, 1055cm series plotter. Connects the plotter to the local network.
Not sure how to connect your printer to the network? Watch the tutorial video here. 
For exact replacement, find the card revision number as shown on the second image, and order the same card from the list of variants. 
This is a fully tested and guaranteed refurbished part, 1 Year Warranty. 
Note: the "TX" designation is the data transfer speed. "Base-TX" is the slowest transfer speed available. 100TX = 100Mb/s. 
J3113A (10/100TX)
J3111A (Base-TX)
J3110A (Base-TX)
J4135a "hp jetdirect connectivity card"
J4169a (10/100TX)
Jetdirect 615n "J6057a" (10/100TX) 
J7934a (10/100TX) 
J7934g (10/100TX) 
Jetdirect 630n "J7997G" (IPv6/Gigabit)
Jetdirect 635n "J7961g" (ipv6/ipsec)
---
We Also Recommend
---
Worked great! Old tech. back to life!
Installed in seconds and fired right up! Do you guys want the old network card? It's a 615 model.
510 card
Great works thanks for help