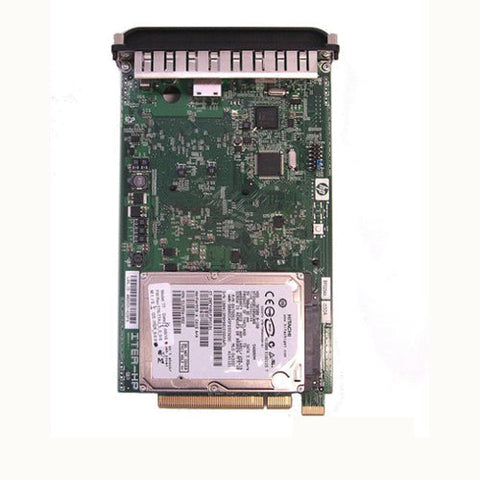 HP Designjet T1120, T620 Formatter & HDD CK837-67026
Designjet T1120 and T620 Formatter & 360GB SATA HDD
$25 Paid For Your Defective Formatter
 - Prepaid Return Shipping


CK837-67026
This item is the formatter board and hard disk drive for all variants of the Designjet T1120 and T620 plotters (including PostScript). It is the replacement  formatter board for 24" and 44" Designjet plotters. The HDD has Virgin Software, never installed on a plotter - blank ID, ready to install. The Software Revision is TJB-BL_13_00_00_1.  The formatter works with the PostScript and RTL types of the Designjet T1120 plotter.
The formatter is upgraded with a new 360 GB, 7200 RPM hard disk drive for plenty of image storage and speed.
Please note that previously installed formatters will not work if moved to another printer.  The formatter and HDD take on the identity and password from the plotter on which they are first installed and will not work on another Designjet T1120 or T620.  The LPS HDD has fresh firmware installed and has not yet taken on an ID or password.
12 month replace or refund warranty. 
 Designjet T1120, T620 Formatter
---
We Also Recommend
---
Great Comminucation
Fast shipping
Fixed everything
Picked up the formatter for my client's printer that has stopped booting up. Initial startup seemed great, then it threw another error. Rebooted and we were up and running. A print head test, print head alignment, and two large test prints confirmed we were fully up and running.
Shipping was crazy fast, also phone support to confirm the issue was immensely helpful. LPS made this incredibly simple!
5/5
CK837-67026 Designjet T1120 Formatter
great product easy fix
easy install, great fix. highly recomended