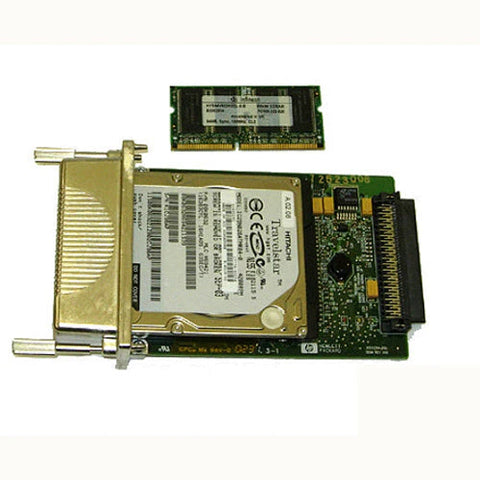 Designjet 800 Formatter Board, $25 Rebate
Designjet 800 Formatter Board with HDD & 128MB Memory Upgrade
$25 refund with prepaid core return
This formatter board plugs into the electronics module and contains the hard disk drive and firmware for the plotter. This formatter is compatible with all variants of the HP Designjet 800. This part fixes Error 05:10 which is caused by a bad formatter board, defective memory or bad disk drive. This is a fully tested and guaranteed refurbished part.
Lifetime Warranty Replacement or Refund
Dynamically Tested
128MB RAM Upgrade
Part is used in 800 and 800PS Plotters
True Plug & Play - No Tools Required

Veteran Owned USA Company
A $25.00 refundable core charge is included in the price. Prepaid return shipping label in the box --you send us your old formatter, we send you $25. 

System errors related to the formatter:
Error 05:10
Error 61:05
Error 71:04
Error 71:06
Error 79:04 
Designjet 800 Formatter, HDD & Firmware
Possible part numbers:
C7779-69272, C7769-69260, C7769-26261, C7779-26261
---
We Also Recommend
---
Product great
The plotter board was as expected. It worked great, but it did not fix my problem. At no fault of yours I wish I would've bought it.
Designjet 800 Formatter Board
Received order promptly and the formatter board solved the printing issue. I will definitely purchase from DesignJet store again.
Easy as that
I am grateful that LPS exists. I was able to replace the drive belt on my DesignJet 800 thanks to them making the belts themselves and selling them for a reasonable price. After I successfully repaired the belt and put the DesignJet back together, I fired it up and got another error which indicated a bad formatter board. Fortunately again for me, LPS had refurbished formatter boards in stock, so I ordered one, received it in a few days, and installed it. My ancient but awesome DesignJet 800 is now back in service. I'm sending them my old formatter board for a rebate and I trust that LPS will refurb that one and make another satisfied customer.
DesignJet 800 Formatter Board
I am very happy with the results I achieved. Everything is in perfect working order, and would recommend LPS Computer Store to everybody for Parts.
Great Find
Our Plotter is over 35 yrs old and our local repair company is always trying to have us buy a new plotter and retire the HP D800. We do not do enough plotting to make the new purchase viable. We installed the new Board and the machine started right back up. We were happy to find your website!