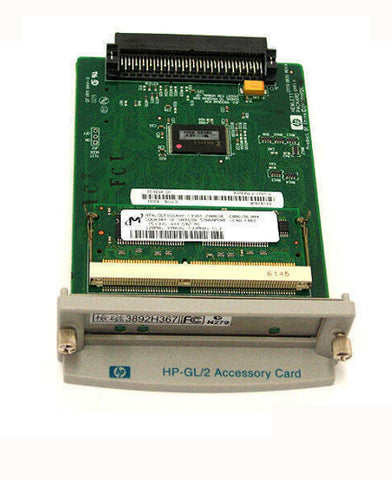 HP Designjet 500 HPGL/2 Upgrade Board C7772A C7769-69441


Designjet 500 HPGL/2 Upgrade Board
 C7772A C7769-69441
Condition: Refurbished, Live-tested
Warranty: 12 months
This card upgrades the Designjet 500 to Hewlett-Packard Graphics Language 2. The card also has 16MB of ram attached and an additional 128mb SIM in the memory slot for a total of 141mb memory upgrade.

If your machine can't handle memory-intensive print jobs, install this upgrade board to increase the file size limit of the printer.
Solves system error 05:10. 
Other errors related to the HPGL/2 card:
Error 71:04

Error 71:06

Error 79:04
This is a fully tested and guaranteed refurbished part.
1 year unconditional warranty.
HPGL/2 card + 128mb RAM
C7772A
---
We Also Recommend
---
HPGL/2 Upgrade Board
Plugged in the board and it was recognized by windows immediately and then I was able to print without any issues highly recommend. I could not get anything to print prior to installing this board.
A Value adding Upgrade to the Old Lady - a Designjet 500
Adding a HPGL Board from LPS was a logical final to an old lady of the HP Fleet.With a full compliant of RAM the Kids at the school see their prints earlier and are happy. The deal with LPS was smooth as silk and UPS to Australia even in covid-19 days was quick. Board was well protected and slipped in working without a problem. Another satisfied client.
Designjet ugtade
Easy upgrade
Plug & Play
Add IP adress and we were printing, no more USB & Parallel cable
No more stalling because of memory…
Replacement part for HP Desinjet 500