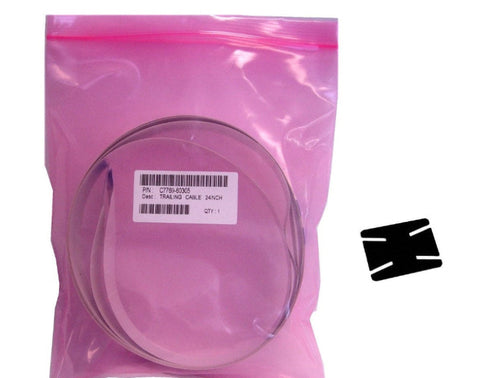 C7770-60274 Designjet 500 / 800 42" Trailing Cable
HP Designjet 500, 800 42" Trailing Cable
The replacement procedure for this part is found in section 8-40 of the service manual --available here.
C7770-60274 or C7770 60147

A worn trailing cable is one possible cause for System Error 11:11. 
Two-part flexible flat cable that connects the carriage with the main logic board. The butterfly-shaped friction clip is included. Extra clips, Clamp, and Stiffener NOT included. 
The stiffener is available here
Errors related to the trailing cable:
System error 11:11

System error 11:13
Designjet 500, 800 42" Trailing Cable
---
We Also Recommend
---
Great
Everything we get from LPS works great.
Overall Excellent Product, Shipping, and Support
The cable arrived quickly and was super easy to install. LPS has a link directly to the download the service manual so you can make this repair on your own. Product arrived packaged and cushioned so no damage could come to the cable. I will always go to LPS for any of our plotter needs first before anywhere else. The staff is amazing and are extremely helpful for whatever problem is occurring with your plotter.
Definitely A Trailing Cable...
The item that arrived in the box, was in fact, a 42" trailing cable. This was excellent news because someone in the office has a fear of being sent a squirrel with a checkered past and anger issues. No one knows why, and they won't talk about it.
Much to everyone's great relief, the item we ordered arrived in good condition, as opposed to an ill tempered member of the order Rodentia (that's the scientific classification...).
Excellent source for parts for old DesignJet
They have all the parts one could need, plus complete instructions for them.
C7770-60274 Designjet 500 / 800 42" Trailing Cable