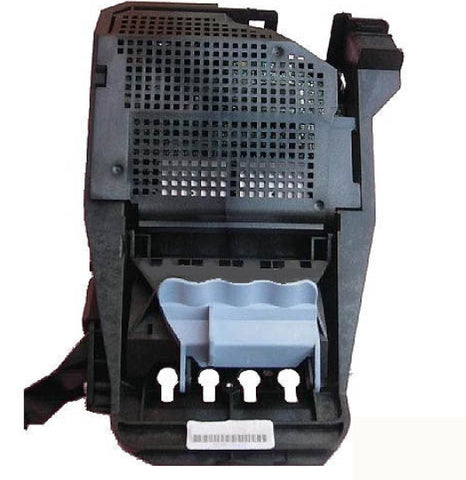 HP Designjet 500, 510, 800 Carriage C7769-60376
HP Designjet 500, 510, 800 Carriage

Condition: Refurbished, Live-tested
Warranty: 12 months
The replacement procedure for this part is found in section 8-78 of the service manual --available here.
C7769-69376 or C7769-60007 or C7769-60365 or C7769-60151

Carriage that carries the print heads and travels the length of the printer. Replacement part for all HP Designjet 500 and 800 series plotters. This part fits 42" and 24" printers. 
Solves problems with poor print quality related to missing pixels because of some print head nozzles not firing, frequent "reseat print head" messages, and false print head failures.
Errors related to the carriage assembly:
System error 02:10
System error 02:13
System error 11:13
System error 12:11
System error 87:13
This is a complete carriage unit.
Includes:
Line sensor
Carriage PCA
Encoder sensor
Rear carriage bushing.
This is a professionally refurbished and live-tested part. 

1 year unconditional warranty.
Designjet 500 510 800 Replacement Carriage Assembly
C7769-60090A, C7769-60332, C7769-60090A, C7769-60332
---
We Also Recommend
---
Replacement Carriage
Worked very well, simply slipped it, swapped the pieces and it worked!!
You guys are the BEST
I bought an old HP500 and had to resurrect it from the dead. I had several questions and they answered every one with detailed instructions on each part I had to replace. I will definitely order all my parts from here going forward.
Thanks again for all your help.
Sent Quickly
The order was processed quickly and received soon after
Exactly as described, shipped fast.
Been doing business with LPS for years. Hoping they stick around until we don't need this printer any more (which will be a long time).
Great Experience
I Recently encountered Issues with my HP Designjet 550ps which made it inoperable. After viewing a video on YouTube by Bob Wert I was confident in which repairs were necessary and what parts to order. I received my parts in a timely manner and, between the enclosed printed instructions and the video I believe I could performed open heart surgery. My patient ( plotter) is alive and earning her keep once again.