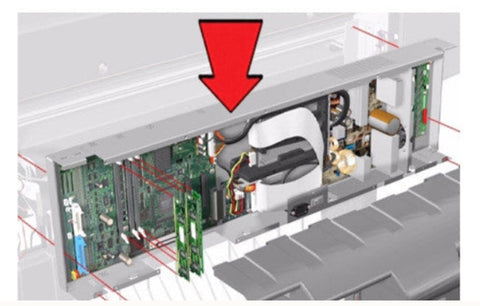 C6075-69280 Designjet 1050C / 1055CM PLUS Electronics Module
HP Designjet 1050C 1055CM Electronics Module
C6075-69280
Condition: Refurbished, Live-tested
Warranty: 12 months
The replacement procedure for this part is found in section 8-25 of the service manual --available here.
This is the complete Electronics module for the PLUS variants of HP Designjet 1050C and 1055CM plotters. This E-mod fixes error code 0B0006.
System errors related to the electronics module:
Error 010020

Error 010023

Error 010028
Error 010029
Error 010041
Error 06030B
Error 0B0000
Error 0B0001
Error 0B0003
Error 0B0004
Error 0B0005

Error 0B0006

Error 0B000C
Includes:
Memory (RAM)

Firmware DIMM

Main Logic Board

Power Supply

Ink Supply PCA
This is a fully tested and guaranteed refurbished part.
---
We Also Recommend
---